SKINCARE
Yes, this is Blair Fowler! I found this on google, what a gorgeous girl!

-How many times do you wash your face daily?
Once at night.

-What skin type do you have? (dry,oily,combo)
Oily, sadly.

-What is your current facial wash?
pHisioHex

-Do you exfoliate?
Today I did, I used Clean Start: Ready, Set, Scrub

-What brand do you use?
Dermatologica - although it was just a sample.

-What moisturizer do you use?
Kiehl's Ultra Facial Moisturizer, I love i

t!

-Do you have freckles?
Nope.

-Do you use eye cream?
Yes, Kiehl's Creamy Eye Treatment with Avocado

-Do you or did you have acne prone skin?
Yes, but I do not have cystic, it is manageable but I feel I still break out enough to consider it acne prone, however more of the breakouts occur on my back.

-Did you ever have to use Pro-activ?
Yes, it made my skin 10 times worse but it cleared up all my brother's acne.
MAKE-UP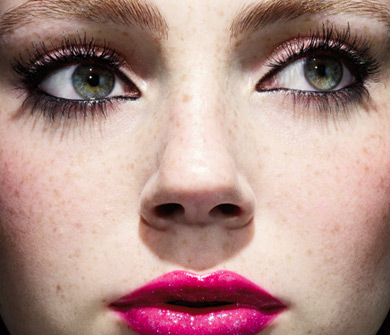 -What foundation do you use?
Right now CoverGirl NatureLuxe Silk Cream Foundation

-How about concealer?
It is actually a foundation but I use it as concealer, Cover FX Total Cream Coverage Foundation SPF 30

-Do you know your undertone color?
I believe it is yellow

-What do you think of fake eyelashes?
I use them all the time for dance but not on a regular basis because I don't have time but I wish my lashes looked the way they do with falsies on.

-Did you know that you are suppose to change your mascara every 3 months?
Yes, I did know.

-What brand of mascara do you use?
Right now, Maybelline One By One.

-Sephora or MAC?
Sephora but I love MAC, it's just that Sephora has more variety.

-Do you have a MAC Pro-card?
Nope, I haven't been to a MAC Pro.

-What makeup tools do you use in make up application?
Brushes, eyelash curler

-Do you use make-up base/primer for the eyes?
Yes, Too Faced Shadow Insurance

-For the face?
Yup, bareMinerals Prime Time Oil Control

-What is your favorite eyeshadow (color or shade)?
Browns, although I don't wear too much shadow

-Do you use pencil or liquid eyeliner?
I wear gel, I feel like I was being difficult.

-How often do you poke your eyes with an eyeliner pencil?
Sometimes, I;m not very co-ordinated, only in dance.

-What do you think of pigment eyeshadows?
I think they're great... I guess.

-Do you use mineral makeup?
Yes, although it is such a mess.

-What is your favorite lipstick?
MAC Angel!

-How about lipgloss?
Oh, Laura Mercier's Opal

-What is your favorite blush to use?
MAC's Her Own Devices Beauty Powder

-Do you buy your makeup on ebay?
No, no, no! That's scary!

-Do you like drugstore makeup?
Yes, I love it!

-Do you go to CCO's? (cosmetic company outlets)
Yup, we're actually besties.

-Did you ever consider taking make-up classes?
I think it would be fun to get a degree in cosmetology but I don't think I would become a cosmetologist.

-Are you clumsy in putting on makeup?
When I am tired and I want to wing out my liner, it is just a mess!

-Name a makeup crime that you hate?
Oh... I hate really dark lip stick colours and way over done make-up on a daily basis.

-Do you like colorful shades of makeup (lipstick,eyeshadow) or neutral ones?
I'm more a play up your natural beauty type of girl so neutral.

-Which celebrity always has great make up?
Taylor Swift!

-If you could leave the house using just ONE make up item,what would you use?
Eyeliner, it is my baby!

-Could you ever leave the house without any makeup on?
Yes, I could, I am confident and I have done it. Make-up makes you feel better but it is not a mask.

-Do you think you look good even without any makeup on?
I think everyone looks beautiful no matter what, I know it's cliche but those girl who can rock no make-up, PROPS!

-In your opinion, what is the BEST makeup line?
I really like NARS.
-What do you think of Makeup?
It is wonderful!
Alright girls so that is it! I tag all of you to do this and if you do choose to do this, leave it in the comment section below or link me to your video or blog post on it.
xoxo,
Taylor <3